Students from The Career Academy place in top 10 at national competition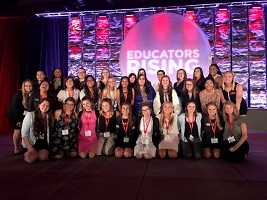 Hang on for a minute...we're trying to find some more stories you might like.
Close to a dozen students from The Career Academy placed in the top 10 at a national educational conference this summer.
More than 1,000 students from across the nation attended the 2017 Educators Rising National Conference in Phoenix June 23-26. The conference is for students who are interested in exploring teaching as a future career. It featured speakers, breakout sessions and competitions.
"In addition to the competition, the students also were able to network with other future teachers from across the nation," said Jame Cartwright, TCA Early Childhood instructor. "They attended valuable breakout sessions, a (Arizona) Diamondbacks baseball game, toured Arizona State University and explored downtown Phoenix."
The goal of Educators Rising is for students to take leadership roles, showcase their teaching skills by earning micro-credentials, and discovering scholarships to help reach their goal of becoming a teacher.
The following TCA students placed in the top 10 at the conference:
Research Learning Challenges: Ally Fricke, Emma Miller.
Ethical Dilemma: Emily Cole, Ryleigh Gebers, Riana Prudente, Caila Gans.
Exploring Support Services: Taylor Powers.
Impromptu Speaking: Ryleigh Gebers.
Children's Literature K-3: Maria Kamar, Marga Galins.
Children's Literature Higher Ed: Emma Davis.