Women's basketball shooting for the National Tournament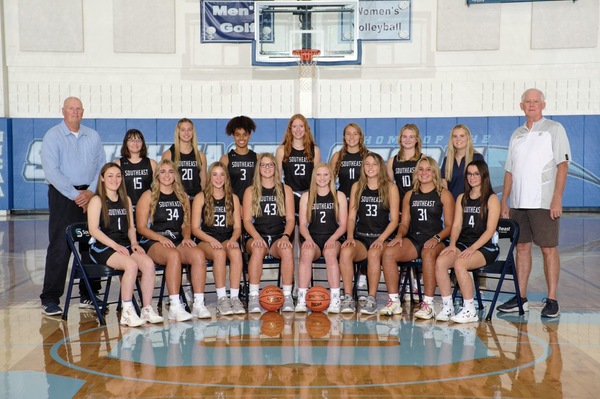 The Southeast Community College Women's Basketball team began their season at the beginning of November, and head coach Lynn Schlake hopes to lead the team to National Tournament.
Lynn Schlake is going on his seventh year as the head coach for the women's basketball team at SCC (Southeast Community College).
Before becoming the head coach in 2015, he was the assistant coach for the men's team for eight years, and he also coached AAU and youth teams from the years of 1990 to 2006, when he accepted the assistant coaching job.
This year, Coach Schlake has  14 women on the basketball team with 7 returners, which Schlake shares is a great benefit, as this is more experienced players he's had back than previous years.
The team has a strong inside game this year, with four very talented posts players.
"The team has quickness and ability to apply defensive pressure full court with our guards," shares Schlake.
While the team is striding forward, and with much experience, there are some obstacles they may face along the way.
"There are always challenges that come along during the season; our biggest is probably staying free of injuries," Schalke acknowledges.
Coach Schalke pushes his players to keep improving day in and day out, while also encouraging them to have fun along the way. Allowing the team to enjoy the game is what helps keep them motivated.
This year, they have depth at all positions, which could contribute to a more successful season, hopefully ending by reaching the National Tournament.
Schlake makes sure to push his players to their full potential, with intense practices that include running six or more miles in drills, extensive offense and defense drills, as well as pushing individual skill work.
November 1, the SCC Storm played the Northeast Community College Hawks at Beatrice, and despite a strong start, SCC lost by three points with the final score being 58-61.
Following that game, the team played back to back games on November 3 and November 4.
Game two was against Des Moines Area Community College, and fell short of a win by two points, with a score of 58-60.
The next day, SCC played the McPherson JV team at home in Beatrice, and with that came an astounding victory with the final result of 91-53.
The team will continue to push through their season with their games continuing into February and March, when the semifinals, finals and championship games.