Storm to host Super Regional tournament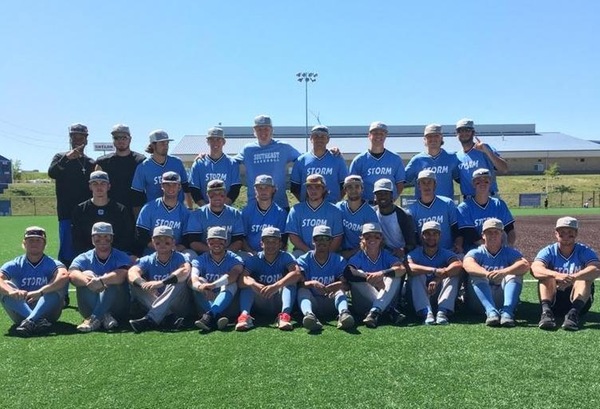 The SCC Storm will be hosting the Division II NJCAA Super Regional for the second time in three years after going 4-1 at the Region Championship, held May 12-14, in Bismarck, N.D.
Southeast lost to North Iowa Area Community College two years ago at Christensen Field, but this year they have a chance once again to advance to the Junior College World Series in front of the hometown fans.
SCC had to battle its way back after falling to Bismarck State 3-2 in the first game on Friday, May 12.
The Southeast offense woke up in the second game, as they stormed their way past Williston State 14-2 in six innings to give the team some much-needed confidence for the rest of the Regional.
The team followed that up with an 8-7 nail-biter win over Dakota County. Head Coach Dion Parks said the two wins were the result of hard work and the team's never-say-die attitude.
"They came out and competed," Parks told the Bismarck Tribune after the game. "The first game today, they battled and battled and found a way to win."
"Our kids competed hard. That's all we ask, "Parks added.
Southeast parlayed that momentum into a 10-5 win over Bismarck, setting up a rubber match to determine who advances to the Super Regionals.
The final game had all the drama befitting of a title game as Southeast gutted out an 8-7 win over the Mystics in 13 innings.
Southeast rallied for two runs in the bottom of the ninth to force extra innings.  SCC then found themselves trailing by one run in the bottom of the 12th inning before Ben Palensky served up a solo homer to tie the game at 7-7.
The heroics weren't over just yet though for Palensky, as he hit a sacrifice fly to deep left center field in the thirteenth inning, scoring Alec Lee home and delivering the title to SCC.
"I was just looking for my pitch," Palensky told the Tribune after the game.  "I took advantage and it worked out."
The Championship win left a very jubilant SCC dugout.
"Unbelievable moments are born out of great opportunity," Assistant Coach Tyson Parks wrote on the team's Facebook page.
"Hats off to Bismarck State…they were a very good team and played extremely hard," Parks added.
The Storm improved its record to 38-18 on the season and will host the Super Regional match against Iowa Central Saturday, May 20, at Christensen Field.