Learning Center at Hebron celebrates ribbon cutting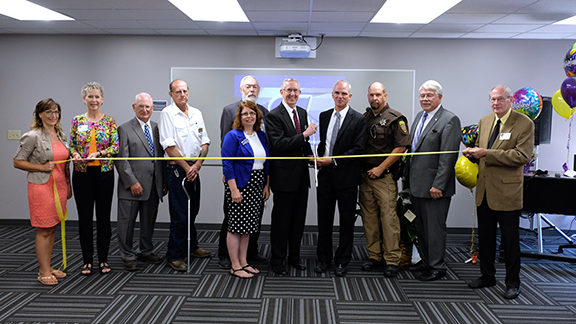 Hang on for a minute...we're trying to find some more stories you might like.
Southeast Community College celebrated the opening of its newest Learning Center in Hebron with a ribbon cutting on Tuesday, July 18.
More than 100 people came out to attend the ribbon cutting as well as tour the newly renovated facility, which is the former Thayer Central primary school.
Crystal Fangmeier is the coordinator of the Center. She has spent more than 20 years coordinating the 4-H youth development program for the Nebraska Extension in Thayer and Nuckolls counties.
"We will be offering educational classes for all types of learners, including college students wishing to pick up credit classes close to home, technical training classes to prepare our local workforce for jobs, and leisure learners who just want to learn a new craft or skill," Fangmeier said.
The learning centers are part of a strategic plan created by the College to better serve the educational needs of the communities within the 15-county service area.
Each learning center will have its own computer lab and classroom, and credit and non-credit courses will be offered, as well as business and industry training.
The York Learning Center opened more than a year ago and was the first of six centers established throughout southeast Nebraska. Last October, centers were opened in Nebraska City and Plattsmouth. Centers in Falls City and Wahoo also are in operation.