Wes Oestreich honored for support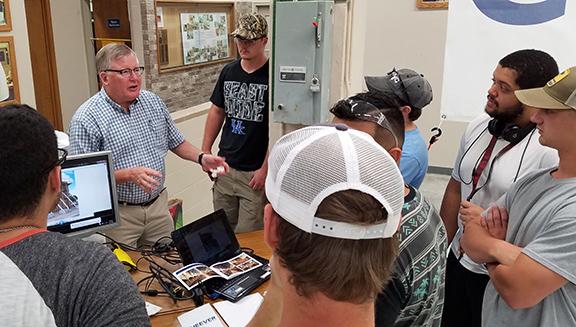 MILFORD – The Associated General Contractors student chapter at Milford recognized one of its ardent supporters.  That supporter is Wes Oestreich.
Oestreich has helped the SCC Milford campus Building Construction and Design and Drafting Technology programs as well as the AGC for many years by donating his time and knowledge. Over the years, he has made many changes possible and has worked with many students.
On Thursday, Feb. 2, Oestreich gave a speech at the Student of the Quarter and was presented with a clock that was inscribed on to recognize all that he has done for the programs and AGC.
Oestreich started working for Cheever Construction 31 years ago, but started working with SCC when he became President and General Manager just over 20 years ago.
"Primarily what AGC is involved with would be lobbying representation on governmental issues at the state and national level, education and training aspects," Oestreich said.
Ron Petsch, a Building Construction instructor and co-advisor of the AGC student chapter at Milford, said of Oestreich at the presentation, "You have stood by us through thick and thin. You have attended a high percentage of our open houses over the years here at the college and you have established a relationship and rapport with scores of our students to a level that few other industry representatives have ever attained."
Oestreich has served on the state AGC Nebraska Building Chapter as well.
"I did about a nine year stint on the board," he said. "Typically, you serve on the board and then so many years into it you're the secretary, then you're the treasurer, then you're vice president, then the president and then the past president and then you cycle off and somebody else comes in."
Petsch asked Oestreich to stay on the advisory team even though he retired from work and is no longer a chair on the board.
"He was just a unique individual," Petsch explained. "We have a lot of good advisors, but probably not that have committed themselves and their company that deeply."
Petsch also talked about how Oestreich has helped the Building Construction and AGC over the years, especially by pushing to build an addition and donating money to the program and scholarships through his company.
"I loved it," Oestreich said. "It's been very educational. It was fun, but it was also a good way to learn and represent our industry better."
Oestreich said he enjoys helping with the AGC because he likes the interaction with the students but also enjoys promoting the industry and getting those still in high school to consider construction as a career choice.
Oestreich and the Cheever Construction Company also helped to build some of the wings on the Lincoln SCC campus on 84th street.
Oestreich was an Architectural Drafter for 13 years before his friend, who owned Cheever Construction, asked him to work for him. He worked for Cheever for 31 years and was president of the company for 21 years.
Milford's AGC chapter attends multiple events and helps students to connect with companies and possible future employers. They also contribute locally with an annual leaf raking of people's yards.
The AGC at Milford has over 30 members currently and has been involved with the Milford campus for 37 years in May.