TV with Nic: Heroes
Before I start, you may be asking, "Nic, why are you talking about a show that has been cancelled for several years?" Well, I was inspired after hearing that Heroes will be rebooted as "Heroes: Reborn" in 2015.
"Heroes" is a show about the struggles of everyday life for people who possess amazing powers.
The show started with Dr. Mohinder Suresh (Sendhil Ramamurthy) following his father's footsteps, studying genetic mutations.
His travels lead to him to New York, where he meets Peter Petrelli (Milo Ventimiglia) and his brother, Nathan (Adrian Pasdar).
In Texas, there is a man, named HRG/Noah Bennet (Jack Coleman) who works for "The Company," which is a team of people who hunt down people with powers. Bennet's daughter, Claire (Hayden Panettiere), is one of the people with powers, hers being immortality.
Many other characters are introduced around the world: Hiro (Masi Oka) and Ando (James Kyson) from Japan, Matt Parkman (Greg Grunberg) a police detective, Niki/Jessica Sanders/Tracy Strauss/Carol (Ali Larter) and Micah Sanders (Noah Gray-Cabey) from Las Vegas.
The show lasted four seasons, with the exception of future installations of "Reborn." Each season centered on one big issue or villain.
Season 1 was the clash against the super serial killer Sylar (Zachary Quinto).
Season 2 was the heroes against the founder of the company, Adam Monroe (David Anders).
Season 3 was against The Company as run by Arthur Petrelli (Robert Forster).
Season 4 was the heroes against the Carnival, run by Samuel Sullivan (Robert Knepper).
The show had a huge fan following in the first two seasons, but around the middle of season 3, the show became very unpopular. Season 4 was supposed to bring the show back to its graces, but failed horribly.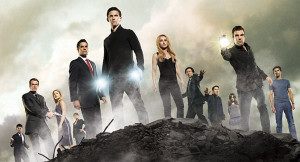 (SPOILERS BELOW)
The only positive of season 4 was the very last scene.
Claire, in front of hundreds of cameras, jumped off the top of a Ferris wheel, showing everyone her power.
This brought a great possibility for the future of the "Reborn" series. Needless to say, I am overtly excited for "Heroes: Reborn," but I am wary about how good it will be.