Tomasulo finishes off sweep of Riverland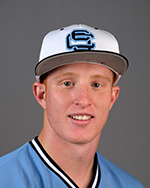 Sophomore Phillip Tomasulo's grand slam in the bottom of the ninth put an exclamation point on the SCC Storm's 12-8 win over Riverland Sunday, March 20, at Christensen Field.
The Storm had a 6-3 lead through the bottom of the seventh, but gave up five runs in the top of the eighth to make it 8-6. But the resilient team added two runs in the bottom of the eighth to tie it at 8. Trevor Carroll took control on the mound in the top of the ninth as he shut down Riverland's offense and set up the dramatic finish to the game.
Tomasulo said he didn't really have designs to hit a round tripper when he stepped up to the plate.
"I just wanted to put a good swing on the ball and drive it to the outfield for Nate (Schrum) who was on third to easily score because there was no outs," he said
Instead, he shot a 1-1 pitch through left center field, driving in all four runs. He withstood a mob from his team and thrilled a crowd of die-hard fans who braved chilly temperatures to take in the game.
"It felt great, "Tomasulo said of the mobbing.
The win completed the sweep of Riverland, which fell to SCC 7-1 in the first game. The Storm enjoyed superb pitching from Brandon Acevedo and Josh Lallier. The team has now won three in a row, and has improved their record to 10-14.
The Cooper City, Fla., native said the team is gelling just at the right time.
"I feel we have a great chance of getting where we want to go because Of the talent we have and how every day we grind as a team to get better, Tomosulo said. "We had a shaky start at the beginning of our season… but now our ball team is coming together."