The incredible, edible pumpkin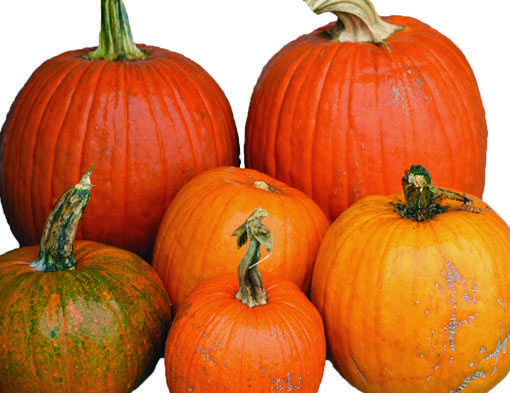 Jamie Wolff, Student Writer
November 11, 2011
It's that time of year again; the leaves are changing color, there is a chill in the air and almost every porch in town has a pumpkin as decoration.
Whether it's spending the day looking for the perfect one at the pumpkin patch or carving up a jack-o-lantern, a pumpkin is a sure sign of fall fun.  With all these festive ways to use pumpkins, it is easy to forget that they are first and foremost a food.
The pumpkins you see carved into jack-o-lanterns are the same variety used to make canned pumpkin.  Fresh and canned pumpkin is edible, and its health benefits are numerous.
Pumpkin is naturally fat free, cholesterol free, sodium free and a strong source of vitamins A and C.  A one cup serving has less than 50 calories, about ten grams of carbohydrates and a little over one gram of protein.
Whether you use canned or fresh pumpkin, your recipe options are limitless.  This sweet squash obviously lends itself well to baked goods.  Who hasn't enjoyed a slice of pumpkin pie during the holiday season?  However, it is easy to become creative with this versatile ingredient.
Lesser known uses include soup, risotto, pudding, pancakes and lasagna.  If you are looking for a way to add pumpkin into your diet this holiday season, try one of these recipes.
For your sweet tooth:
Vanilla Pumpkin Cider Cake (contains alcohol)
Ingredients:
2 cup of all-purpose flour
1 3/4 teaspoon of baking powder
3/4 teaspoon of baking soda
3/4 teaspoon salt
2 teaspoons vanilla
2 teaspoon of ground cinnamon
1 teaspoon of ground nutmeg
3 room temperature eggs
1 room temperature egg white
1-15 oz. can of pureed pumpkin
1 cup sugar
1 cup brown sugar
3/4 cup vegetable oil
1/2 cup Woodchuck hard cider
To make this cake combine flour, baking powder, baking soda, salt and spices in a bowl and set aside.  In a separate bowl or mixer combine eggs, egg white, pumpkin, sugars, oil, vanilla and cider and mix well.  Using small batches add the flour mixture to the wet ingredients and mix until just incorporated.  Pour the batter into a greased and floured 9 x 13 pan (or two round pans).  Bake at 350 for 25 to 35 minutes or until a toothpick inserted into the center comes out clean.  Remove from oven and cool.
As your cake cools, you can prepare a whipped cider icing.
Ingredients:
1 container cool-whip
3/4 cup woodchuck hard cider
1-1/2 teaspoon vanilla
1 teaspoon cinnamon
Whisk all the ingredients together in a large bowl; keep refrigerated until ready to use.   Spread icing onto a cooled cake and serve.
For a savory option:
Pumpkin and White Bean Soup
Ingredients:
1 can (15 oz) white beans – drained
1 small white onion –finely diced
1-1/2  cups chicken stock
3 sliced bacon- chopped small
1 can pureed pumpkin (15 oz)
1/2 cup apple juice
1/2 cup water
1/2 teaspoon black pepper
1/4 teaspoon salt
1 teaspoon fresh thyme
In a large pot slowly cook the bacon to render the fat, remove the bacon from the pot. Add the onion and cook in the bacon grease until translucent.  Add all other ingredients (except thyme) to the pot and simmer until warm.  Remove from heat and puree in a blender.  Pour into individual serving dishes and top with the cooked bacon you set aside and the thyme.  Serve and eat.