Terry's is a great choice for fun and food.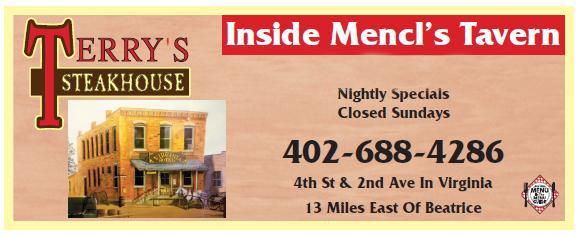 Nicholas A. Howe, Beatrice Bureau Chief
February 6, 2014
Last Saturday, my sister, some of her friends, and I went out for the night. Usually, we just go to Risky's to play pool and have some wings. This week however, our friends told us about this amazing place in Virginia.
Since it was a Saturday, we expected it to be busy.
Not only was it busy, but it was packed to the brim.
Since we were so adamant about eating there, we waited for a spot to open up.
After twenty minutes of standing around, we were seated at a middle table.
That was when the night really began.
FOOD
After we got our menus, we ordered and went to the salad bar. The best part of the salad bar was the potato salad, which was mixed with Dorothy Lynch. I usually do not eat potato salad, but this was the best exception.
Then, after the wonderful salad bar, we were treated to our appetizers. We ordered some mozzarella sticks and breaded mushrooms. It was especially shocking to my sister because I do not eat mushrooms, ever.
After about twenty minutes of waiting, we finally got our food.
The special of the night was prime rib. I have never had prime rib before, but now I know how delicious it is. First of all, the slabs of meat were just that, giant slabs. I got the smallest portion, as well as some butterfly shrimp. When I got the plate, it was completely covered in prime rib. Never in my life have I seen such a large piece of meat like this. One of my friends got the largest size, or "King Cut" and he could only eat about seven bites of it. Just aesthetically, it was pleasing. Then I took a bite and my mouth was in heaven. It was the juiciest piece of meat I have ever eaten. No one in my party could finish all of their food.
Grade: A
ATMOSPHERE
The atmosphere was very old timey, which is a great theme for this restaurant. The restaurant could use an expansion, but it runs very well.
The only thing that could make it better would be an expansion. It isn't necessary, but I think it would be nice for the people travelling to eat there.
Grade: B
SERVICE
The service was amazing. I haven't come across such a friendly wait staff in my 19 years of eating out.
Kay Mencl, restaurant owner along with Terry Mencl, came over every few minutes to make sure we felt comfortable. Even though she was having some stomach pains, she was the perfect hostess. At one point, one of my friend's prime rib was over cooked, and Kay went and got it fixed quickly. We asked her to join us while the restaurant slowed down, and we all enjoyed her hospitality. She definitely made the night ten times better.
Grade: A+
If you are looking for a good night out with friends or just a place to treat yourself to an amazing meal, I would recommend you go to Terry's in Virginia.