Storm win two at RKP Classic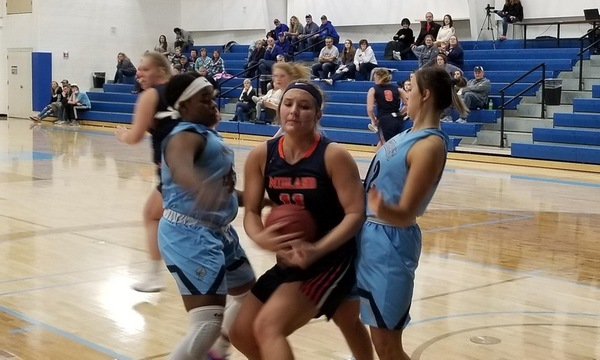 The Lady Storm are on an early season roll, as they go 2-0 in the RKP classic held on Nov. 16-17 at the Truman Center.
They had to come from behind in the first game against a talented Concordia JV team. There were several players who went back to play for the varsity team and were not availible for the Nov. 17 game against Frank Phillips, so SCC got to play the Bulldog's best JV players.
It was a rocky start for the Lady Storm as they fell behind 14-5 in the 1st quarter and ended the quarter being out scored 22-14, but the offense got on track in the 2nd, and Southeast was within one at 39-38 at the halftime break.
They continued to trail at the 3rd quarter break 53-50, but several defensive stops by Southeast allowed them to move ahead midway through the 4th.
And after a Gabby Mason three pointer to tie the game at 66-66 with a minute to go, Morgan Frauendorfer hit a three pointer from the right wing to move ahead 69-66. Finally, a last second off-balance Mason three pointer bounced off the rim, and the Lady Storm held on to win 69-66.
The second game on Nov. 17 featured a pesky Midland JV team.
It was a team that knocked off future SCC conference foe Central Community College recently, so Southeast hand their hands full – especially with the Midland bigs – Peyton Wingert, Tara Canno and Syndi Adams.
The Lady Storm started out slowly, falling behind 22-13 at the end of the 1st quarter as they were ice-cold from the field, hitting just 21 percent of their shots. SCC was also out-rebounded 14-10.
The 2nd quarter was a different story as Southeast awoke to a 21-12 2nd quarter and tied the game at 34-34 at halftime.
They went on to win 82-74 after pouring in 48 points in the second half.
Southeast had three players in double figures in the Concordia win, as they were lead by Morgan Frauendorfer's 18 points. Emily Zvolanek served up a double/double with 12 points, and 14 rebounds. Madison Hajek added 11 points.
Emily Zvolanek led four SCC players who scored in double figures in the Midland with with 23 points. Hajek had 15 points, Frauendorfer added 14 points, and Cassidy Weinandt came off the bench to score 10 points.
SCC had now won four in a row after dropping their first two games of the season before heading to Northeast Community College on Tuesday, November 20.