Storm Volleyball Sweeps Tourney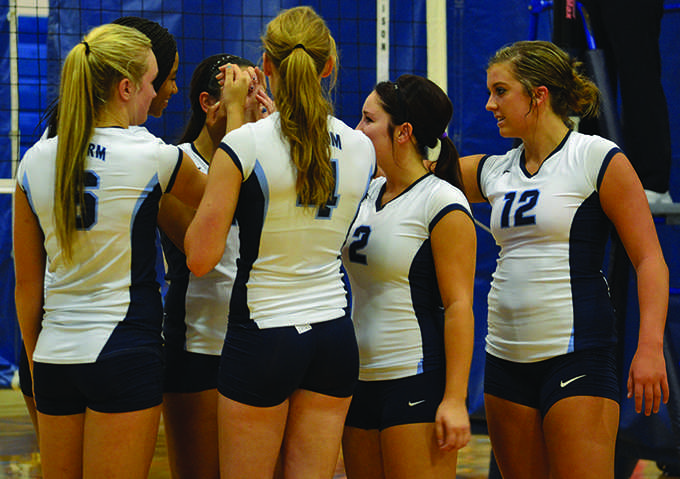 Matt Hagemeier, Sports Reporter
August 26, 2014
The Lady Storm blew past four opponents to emerge undefeated in the RKP classic held Friday, Aug. 22, and Saturday, Aug. 23.
SCC edged Cloud County 3-2 and took down Highland 3-1 in the nightcap Friday.
Southeast jumped out of bed for an early morning game (9 a.m.) to defeat Northeast CC 3-1 on Saturday. The ladies followed up with a 3-1 victory over McCook to sweep the classic.
Head Coach Carrie Puhalla said the sweep did not go according to script.
"I expected to go 4-0, (but) I didn't expect Emily Schrempp to get sick, " Puhalla continued. "That threw a curveball into my lineup, (and) we had to go back to a 5-1 offense."
The coach said that Cloud was "probably" the toughest team they faced.
"They are a lot better than they were last year," Puhalla clarified.
SCC was powered by freshman newcomers Amara Meeks, Darby Hinrichs, Michaela Viloria and Sydni Lee.
Meeks led Southeast with 50 total kills in the classic, followed by Viloria and Hinrichs with 37 and 34 kills respectively. Lee led the defense with 22 blocks.
Puhalla came away from the classic with mixed feelings.
"I don't know if (the wins) were impressive, but we won, " Puhalla said.
"We struggled at times," the coach added. "The things I thought we had down, we had to work on. And the things I thought we would struggle with, we were successful."
The Lady Storm will stay at home for a Wednesday, Aug. 27, match with Laramie County Community College. LCC is 4-0 after sweeping the Lamar CC tournament in Lamar, Colo.
You can view the action on ihigh.com/sccstorm.