Storm Sweeps McCook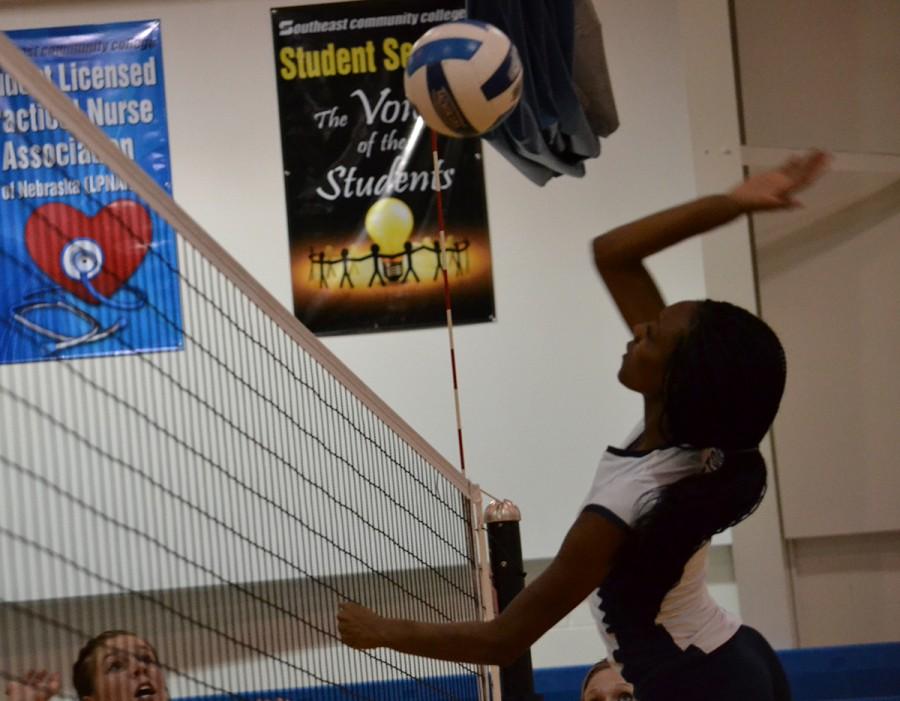 Matt Hagemeier, Sports Reporter
September 15, 2014
The third time was not a charm for the visiting McCook Community College Lady Indians as the Lady Storm swept MCC 25-15, 25-22, and 25-16, Friday, Sept. 12, at the Truman Center.
SCC had beaten McCook twice in season invites already and avoided a letdown for the easy win.
There were some tense moments, however, as the Lady Storm gave up a 6-1 lead and trailed 18-15 in the second set.
Head Coach Carrie Puhalla called a timeout and regrouped the team. Amara Meeks came out immediately with a kill, and SCC went on a 5-0 run.
"I told them to settle down and focus on the basics like getting a good pass … so we could run our offense," Puhalla said.
Puhalla added that her team was playing "too tight" and needed to "relax a little" to get back into playing their type of ball.
The Lady Storm went on cruise control for the third set, and that enabled the coach to tap the bench and give Freshmen Brianna Pulliam and Kennedy Leach some playing time.
"(Kennedy and Leach) did awesome," exclaimed Puhalla.
"I was pleased (Kennedy) was able to come in and make some great plays. She did great with serve receive and was able to handle the pressure of the game," Puhalla said.
"Brianna knows that her job is to come in and serve some aces and play great defense, which is exactly what she did," Puhalla added. "I was very pleased with her performance."
Allison Triplette paced the Lady Storm with eight kills and a .400 hitting percentage. Amara Meeks and Micheala Viloria also added eight kills. Darby Hinrichs aided the defense with 14 digs to go along with seven kills.
SCC improves to 12-4 on the season. They travel to Iola, Kan., for the Allen County Invite on Friday, Sept. 19.