Storm men fall to Hesston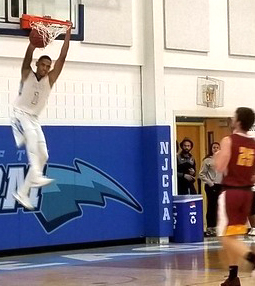 Hang on for a minute...we're trying to find some more stories you might like.
SCC faltered in the second half as it dropped another game to Hesston 89-81 Saturday, Nov. 25, at the Truman Center.
This game had a similar narrative as the previous one did on Hesston's home court, where one team each took a turn dominating a half.
The game started off sloppy for both teams as turnovers and missed shots made it just 4-2 SCC nearly five minutes in. 
Daniel Quesenberry hit a three in the corner, and Aubrey Johnson answered with a three of his own to make it 7-5.
The teams battled back and forth to make it 16-13 Storm, and at that point, Southeast would surge forward on an 16-3 run, highlighted by a breakaway two-handed jam by Jalen Wilikins-McCoy.
Southeast continued the momentum and parlayed it into a 43-29 halftime lead.
But the second half would prove to be a different story for SCC.
In the first loss against Hesston, the Storm started slowly and played much better after halftime. However, this time it was Hesston with the big second half.
The Larks exploded for 60 points to blow past SCC on its way to the win. Hesston went on a 29-14 run to take their first lead (58-57) with 11:23 left in the half.
Southeast's defense had trouble containing forward Zac Neely, who has been a thorn in SCC's side for two years.
The sophomore from Ada, Okla., ended up with 20 points and 15 rebounds, with most of that production coming in the second half.
Hesston's Coye Campbell went off for 44 points in the first game, but SCC held him in check this time. Campbell ended up with 10 points on 3-10 shooting.
Wilkins-McCoy led the Storm with 17 points, 16 rebounds and seven assists.
Freshmen Alex Dantzler and Darian McDonald came off the bench add 14 and 13 points respectively.
The Storm fell to 3-6 on the season with the loss. They will try to get back on the winning track Nov. 28, as they travel to Wichita, Kan., to take on Next Level Prep.