Storm defeat the Northeast Community College Hawks 85-62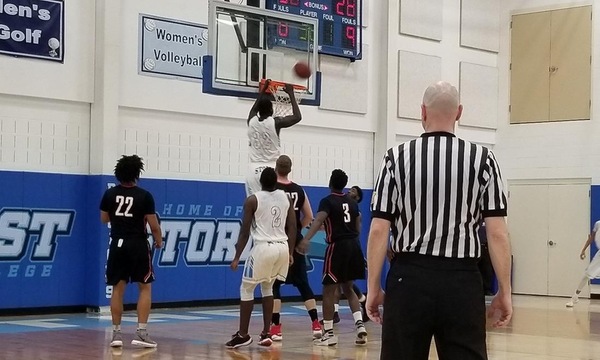 Northeast came in to Wednesday's game on a bit of a slide, as the team had lost seven out of its last eight games while Southeast entered the contest with only two "official" wins on the season. SCC was also coming off a flat performance against McCook Community College.
Unfortunately for the Hawks, the team they saw was a vastly different team than the one they scouted.
The game started out slow and choppy with Northeast jumping out to an 18-8 lead at the 12:27 mark.
Northeast's Steve Wooten was getting to the free throw line and knocking down the shots with ease. This game was trending toward an all-too-familiar outcome for the 2-24 Storm.
After one of many Wooten trips to the free throw line, Northeast climbed back up to a 23-14 lead with 8:13 left after SCC pulled within six. But Kalem Hardaway responded with a trey on the left wing, and then Quesenberry with one from the right side two possessions later allowed the Storm to pull within three points.
After that, Darian McDonald knocked down a triple from the right corner, and the game was tied at 23.
A short while later, another McDonald three gave SCC a 28-26 lead with 5:11 to go in the first half. Southeast extended the lead by going on an 8-0 run capped by back-to-back McDonald threes.
The freshman ended up going 6 for 11 from behind the arc for the game.
SCC took control from that point and led 43-33 at the half.
Southeast also bucked a trend of coming out flat after halftime, as they continued to maintain their intensity and stayed ahead of Northeast.
Jalen Wilkins-McCoy added 14 points after sitting out most of the first half, and Kouth Path was a defensive stopper in the second, where he recorded four blocked shots and pulled down nine boards.
The Storm outscored NCC 42-29 in the second half and held the Hawks to just 24 percent shooting for the game. The team held a 43-37 rebounding edge as well.
Darian McDonald led Southeast with 22 points while Daniel Quesenberry added 14. Steve Wooten had 31 for the Hawks, and was an incredible 17-18 from the free throw line.
SCC improved to 3-24 on the season. They travel to North Central Saturday.