Storm Baseball Wins Sunday Double Header over St. Clair County 10-0 & 12-2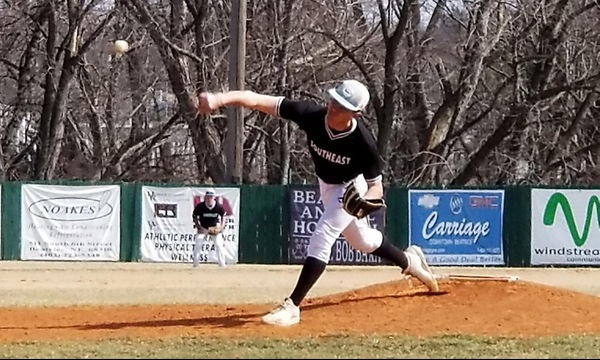 SCC took it to St. Clair once again on Sunday, winning two games via the 10-run rule.
In the first game, Justin Reinkall got the start and continued a trend of solid starting pitching for Southeast.
Reinkall followed in the footsteps of teammates Kaleb Sanderson and Joesph Vargas from Saturday, striking out five batters and giving up six hits in four innings of work.
Southeast's offense got going in the first inning.
Two runs were scored courtesy of RBI singles from Carson Armsbury and Jacob Arizpe, and Will Hanafan scored on a Sac hit from Brenton Davis.
SCC ended the inning up 3-0 and never looked back.
A 5-run fifth inning was highlighted by several St. Clair wild pitches, and Jacob Arizpe capped the inning with a RBI double that drove in Hanafan and ended the game with the ten-run rule.
The Skippers' offense showed a little bit of life in the rubber match.
Lawson Burnett hit a liner to the shortstop who over-threw the first baseman, allowing Burnett to be safe and scoring Barry Marshall from second. The error put St. Clair up 1-0.
But the rare Skippers lead didn't last.
SCC scored four runs in the bottom of the first, powered by a lead-off triple by Mason Prososki.
Will Hanafan's single hit Prososki home, and Chris Cornish uncorked a two run double to make it 3-0. After that, Jacob Arizpe served up a sacrifice fly to score Cornish, and SCC had a 4-1 lead after one.
The Skippers has some more success after both teams had a scoreless second.
Brenden Peck led off the inning with a double, and Danny Cox singled home Peck to cut SCC's lead to 4-2.
But that is a close as they would get, as SCC scored six straight to once again get a 10-run rule in the fifth inning.
Chris Cornish ended up going 3-3 with three RBIs, and Will Hanafan went 2-4 with three RBIs on two singles.
The Storm improve its record to 7-6 overall with the series sweep and travel to Iowa Western on Wednesday, Mar. 7.