Storm Baseball punches ticket to World Series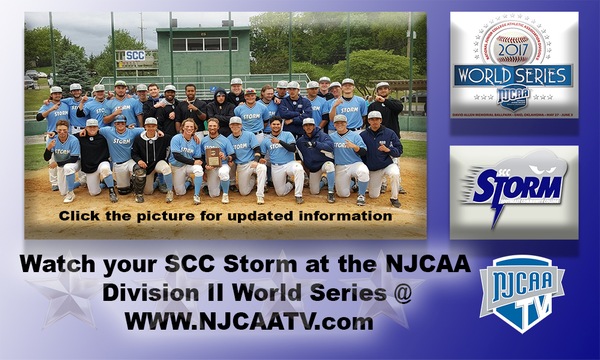 The SCC Storm baseball team rolled its way into the Junior College World Series with a 2-0 series win over Iowa Central in the District Championship held Saturday, May 20, at Christensen Field.
Southeast found itself in a 8-2 hole going into the bottom of the sixth inning.
Central pitcher Anderson Deleon struck out eight batters, but was replaced by Bryce Kearns, which turned out to be a pivot point in the game.
Alec Lee hit a grounder into center field for an RBI.  The Tritons coaching staff sensed trouble, so Kearns was immediately replaced by Evan Johnson.
But Mason Prososki kept the scoring going with a sacrifice line-out, Ben Palensky tapped in another RBI, and Wyatt Meyer drove in a 2 RBI single to pull SCC within 8-7.
Lee returned in the seventh inning to send up a two run homer and take the lead to 9-8.
Central tied the game at 9 in the eighth inning, but Ben Palensky came back with a solo homer to take the lead once again at 10-9, and Lee got involved in the scoring, adding an insurance RBI to go up 11-9 and then hold on for the win.
The second game had the Storm's pitching staff hold down the fort through seven innings while the SCC bats remained hot.
SCC scored a run in the first inning and held steady with a 5-0 lead in the eighth before the Tritons came roaring back with four runs to make it interesting heading into the ninth inning.
Leading 5-4, Wyatt Meyer send a long ball over the fence in right field to make it 7-4.
BJ Sparks came out in the bottom of the ninth, shutting the Tritons down and punching Southeast's ticket to their first ever World Series.
SCC ended up with four home runs on the day, two from Meyer and one each from Ben Palensky and Grant Van Scoy.
The Storm will take on Lansing Community College in Round of the Junior College World Series Friday, May 26, at 10 a.m.
The games will be streamed at http://www.njcaatv.com/landing/index