Storm baseball continues its streak in win over Hesston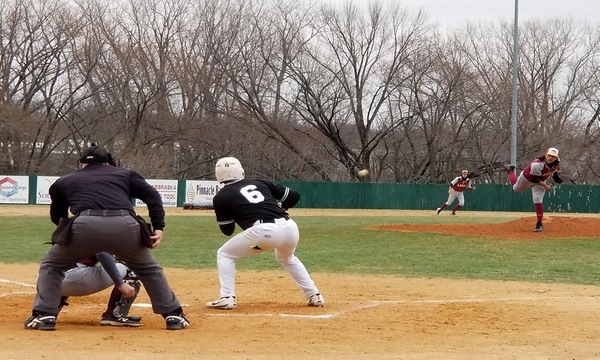 The wins keep on piling up for the SCC storm, as the team swept the season series with Hesston with two wins on Monday, April 10, at a chilly Christansen Field. 
A three-run homer by Brenton Davis in the bottom of the first propelled SCC to a breezy 11-1 ten-run ruled decision in game one. 
The Larks took the lead in the first inning after Kalen Haynes hit an RBI double, but Justin ReinKall held down the defense, striking five while scattering four hits.
The Storm was also aided by several Hesston fielding errors, and Alec Lee and Chris Cornish each had an RBI double to pace the offense.
The second game was much closer.
Southeast started off with a solo shot by Alec Lee to move ahead 1-0; however, the bats were quiet for the most part as the game came down to the seventh inning. Hesston rallied to score two runs to make a 3-3 game in the bottom of the seventh inning. 
Dawson Degnan was on first with no outs when Mason Prososki lined to centerfield. Degnan was headed to third, and Prososki rounded first. Prososki was held up, and a throw from the shortstop went past the glove of first baseman Kalen Haynes, allowing Degnan to score and end the game on an error.
Brock Olsen led the team with two hits to go along with the Lee home run. 
Josh Lallier picked up the win for SCC, as the team notched its twelfth victory in a row. 
The team record stands at 26-8.