SCC hosting Czech-American bagpiper for lecture, demonstration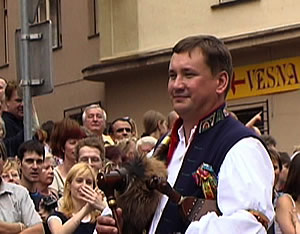 Stu Osterthun, Administrative Director of Public Information and Marketing
April 25, 2013
Hang on for a minute...we're trying to find some more stories you might like.
Michael Cwach, a Czech-American bagpiper, will play and sing traditional Czech folk songs during upcoming presentations at Southeast Community College.
Cwach will play, sing and make a brief presentation of the cultural history of the Czech bagpipes, including the showing of rare photographs and archival materials from the Czech Republic and from early Czech settlers in the United States.
All events are free and open to the public. Seating is limited. The schedule:
SCC Milford Campus, noon April 26, auditorium, second floor, Eicher Technical Center.
SCC Beatrice Campus, noon April 29, conference room, Jackson Hall.
SCC Lincoln Campus, noon April 30, Room G-1 and 6:30 p.m. April 30, Rooms 103-104, V Section.
Following Cwach's presentation, a screening of "CALL OF DUDY: Bohemian Bagpipes Across Borders," the first full-length documentary film on the Czech bagpipe tradition, will be shown. It is co-directed and produced by long-time Prague expatriate, American Jeffrey Brown, who also will be in attendance. This marks the duo's third trip to the region as part of the Tour of the Czech Communities of the Midwest that takes part in Nebraska, South Dakota, Kansas, and Iowa.
Earlier this year Cwach completed a Ph.D. in music at the University of Canterbury in Christchurch, New Zealand. His studies involved the Bohemian bagpipes played in the Chodsko region of the Czech Republic and their role in forming the identity of its people. He earned a master's degree in the history of music instruments from the University of South Dakota in 2007. Cwach grew up on a farm near Yankton, S.D., which may be described as being located on the easternmost edge of an area of a rural Czech settlement centered in Tabor, S.D.
Brown, a Prague-based filmmaker, produced a number of award-winning narrative features and feature documentaries in Europe, Africa and the U.S. His most recent narrative feature, "Listopad," focuses on the Czech Republic's 1989 Velvet Revolution. His film that will be shown at SCC has been screened in several European countries, Asia and the U.S. He divides his time between Prague, the Czech Republic, where he has lived for the last 20 years, and Austin, Texas.
A question-and-answer session with Brown and Cwach will follow the screening.