SCC golf team finishes seventh at national tournament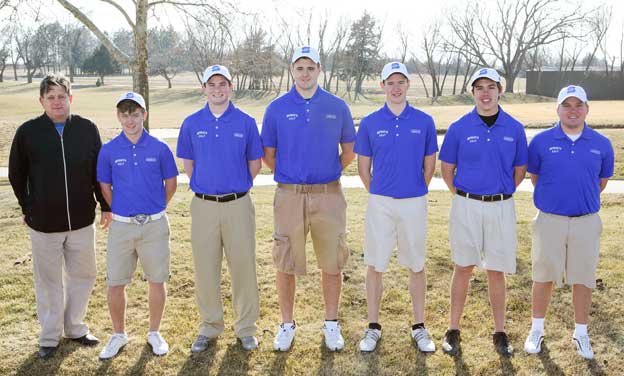 Stu Osterthun, Administrative Director of Public Information and Marketing
May 29, 2013
Calvin Freeman, a second-year player on Southeast Community College's men's golf team, earned First-Team All-America honors for the second consecutive year after carding a 3-under-par 285 and leading SCC to a seventh-place finish at the National Junior College Athletic Association Division II National Tournament that wrapped up May 24 in Alabama.
Freeman, a graduate of Humboldt-Table Rock-Steinauer High School, was tied for second place after rounds of 70, 73, 70, and 72 on the par-72 Goose Pond Colony Golf Course in Scottsboro. But due to scorecard tiebreakers, he finished fourth overall. He became the first player under SCC Coach Bill Campbell to earn back-to-back First-Team All-America honors. He shot 295 last year and finished sixth.
"He carried the team all season and played so well at nationals," Campbell said. "He put a lot of pressure on himself and wanted to show that last year wasn't a fluke."
Campbell said Freeman, who signed with the University of Nebraska this spring, was one of the best players he's ever coached.
"Calvin ranks right at the top," Campbell said. "The kid is a coach's dream. He keeps everybody loose. He talks a little bit of game, but he backs it up. He's a leader, all the way from ordering the shoes we wore to calming his teammates down."
SCC shot rounds of 294, 294, 299, and 304 for a total of 1,191. South Mountain Community College of Arizona ran away with the team title, shooting 13-under-par 1,139.
SCC's Mike Downey, a sophomore from Gloucester, United Kingdom, finished tied for 38th place with a 300. He was followed by teammate Liam Chambers, a freshman from Helensburgh, United Kingdom, who shot 302 and tied for 45th. Zach Taylor, a freshman from Omaha Burke High School, tied for 63rd place with a 305, and Austin Miller, a freshman from Sidney High School, tied for 97th place with a 319.
Campbell said his squad was just strokes away from third place.
"I think we missed a chance at a top-three finish," he said. "Our short game wasn't good enough. The greens were hard the last three days. We never got comfortable on the greens."
Campbell said expectations were high after the Storm set a school record at the Region IX Tournament, shooting a two-day total of 570 during the weather-shortened tournament.
"Maybe that's what led to my anticipation of being able to go down and really play well," Campbell said. "But all-in-all it was another good season."
Chambers entered the national tournament playing some of his best golf. His final-round 63 propelled him to the Region IX individual title, and Campbell said his iron play had been phenomenal.
"I knew going in that as a team, every stroke counts," Campbell said. "Unfortunately, we took a few too many. We just didn't take advantage of the opportunity."
SCC was tied for fourth place after the first round, 10 shots behind South Mountain. Another 294 in Round 2 put the Storm in seventh place. Freeman's second-round 73 actually dropped him into a tie for 14th place, but he came back to post a 70 in Round 3, which put him in a tie for eighth place entering the final round.
David Keenan of Parkland College of Illinois was medalist at nationals, shooting 8-under-par 280.
Campbell said he didn't know what Freeman's plans were after he completes his eligibility at Nebraska, but he hopes the youngster will come back to SCC.
"When he finishes up at the University of Nebraska, he should be my replacement," Campbell said. "He's so involved with golf. He can talk golf. He can be a tremendous recruiter. He's very personable. I can't say enough about him."
Freeman is Campbell's first player to ever earn back-to-back First-Team All-America honors.
SCC Storm            294      294      299      304-1191
Calvin Freeman     70        73        70        72-285
Mike Downey        75        76        76          73-300
Liam Chambers     71        74        77          80-302
Zach Taylor            78        72        76          79-305
Austin Miller          79        75         85        80-319