Rob Delaney's "Mother. Wife. Sister …" not for the faint of heart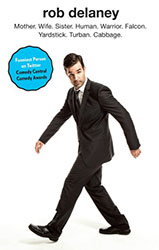 Nate Becwar, Student Writer
February 24, 2014
Rob Delaney's, "Mother. Wife. Sister. Human. Warrior. Falcon. Yardstick. Turban. Cabbage." is not for the faint of heart. In it, Delaney uncovers his graceless struggles with addiction and depression.
It is a change of pace for the comedian once named, "Funniest Person on Twitter" by Comedy Central.
Despite the heavy subject matter, Delaney still finds a way to construct hilarious lines on almost every page. Each chapter is an honest, heart-felt portrayal of certain defining moments in Delaney's adventurous life, ranging from an anecdote about bungee-jumping off the Manhattan Bridge to a jaw-dropping account of a drunk-driving crash that nearly took his life.
Delaney's book does not move chronologically like most autobiographies. Instead, it jumps around from his college days, to early childhood memories, to his time in rehab, and to his life as a father. This creates a montage of the wonderfully complex and funny thoughts that roll through his head.
The memoir's most touching moment comes in the chapter entitled, "mes amis morts," which translates from French to, "My Dead Friends."
In that chapter, Delaney outlines the deaths of three of his friends from his time in rehab.
One in particular, Luke, an emergency room doctor, dies after an overdose of pain medications. A few days later, Luke's brother contacts Delaney and asks him to stay sober to honor his brother.
"He cried as he spoke to me, and I'm crying right now thinking about it," Delaney writes.
Such candor is frequent throughout the book and Delaney's earnest writing gives, "Mother. Wife. Sister…", undeniable personality.
Delaney's first effort at long form storytelling is sincere and thoughtful. It also brings a lot of laughs.
At only 189 pages, it is a quick read that will give readers a new appreciation of the stand-up comedian. Delaney's star keeps rising and all of his fans will be eagerly waiting for whatever is next.