Northeast Lady Hawks soar with victory over Lady Storm 70-60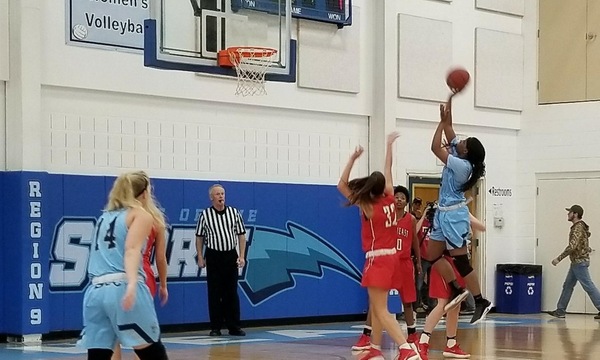 Matt Hagemeier, Sports Reporter
February 19, 2018
The Lady Storm made it tough for Northeast early on, but the Lady Hawks were able to gradually pull away and soar to a 70-60 on Wednesday night at the Truman Center.
SCC kept pace with Northeast in the first quarter, trailing by one in a 21-20 game at the start of the second.
But the Lady Hawks' size and strength was a little too much as they controlled the second quarter (18-13) and third (16-9).
SCC came back for a solid fourth quarter, out pacing Northeast 18-13, but it wasn't enough.
Both teams were cold from the field, with Northeast shooting 32 percent and SCC 34.5 percent.
Northeast held the edge in rebounds at 51 to 42 and was able to get off more shots with NCC putting up 76 to the Lady Storm's 58.
Southeast went to the free-throw line more often, going 16-26 for 61 percent. However, that was under the season average of 65 percent.
Marcia Hawkins led all scorers in the game with 20 points and seven rebounds, while Erika Goracke added 14 points, including 3-6 from behind the three-point line.
Northeast was led by Mykayla Baylor's 16 points, and Bailleigh Nazum had had 15 points and was 5-10 on three pointers.
The Lady Storm's record falls to 9-17 on the season, and the team travels to North Central on Saturday.