Nebraska PBL captures six first place awards and 52 top ten honors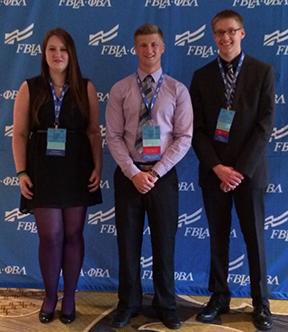 The Milford Chapter of Nebraska Phi Beta Lambda (PBL) sent three students to compete at the National Leadership Conference (NLC) held in Nashville, Tennessee at the Grand Ole Opry Resort.
Bethany Domann competed in the Sales Presentation event, Christian Crosby competed in the Impromptu Speaking event and Dylan Countryman competed in the Macroeconomics event.
Countryman placed 8th nationally and was recognized at the closing ceremony in Nashville.
Overall, Nebraska PBL finished with 52 top ten finishes, the most ever, which most likely placed them in second among all of the states attending, according to Milford chapter adviser Tammie Lang.
Approximately 80 Nebraska PBL members, advisers and guests attended the annual conference held June 24-27. Nearly 1,700 college students traveled to the historic city of Nashville to make some history of their own as they showcased their talents as future business leaders and vied for the opportunity to win over $79,000 in cash awards.
Future Business Leaders of America-Phi Beta Lambda (FBLA-PBL) is the largest and oldest student business organization. Participants from across the United States and two countries were in attendance for this conference to sharpen their core business skills, expand their networks and participate in more than 55 business and business-related competitive events.
Future Business Leaders of America-Phi Beta Lambda, Inc. is a nonprofit 501(c)(3) education association with a quarter million members and advisers in over 6,500 active middle school, high school and college chapters worldwide.
Its mission is to bring business and education together in a positive working relationship through innovative leadership and career development programs.
For more information, visit www.fbla-pbl.org.