NCCA honors Scott Volk as SCC's Distinguished Alumni Award winner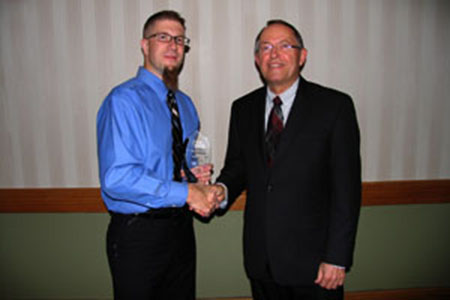 Stu Osthern, Administrative Director of Public Information and Marketing
November 8, 2013
Hang on for a minute...we're trying to find some more stories you might like.
When Scott Volk was in junior high school, he wanted to be an engineer or an auto mechanic.
But by the time he was graduating from Norfolk High School in 1993, Volk narrowed his focus to mechanical engineering. That is until he visited Southeast Community College's Milford Campus and the Manufacturing Engineering Technology program.
Volk, a 1995 graduate of the program, was honored Monday night in North Platte as the Nebraska Community College Association's Distinguished Alumni Award recipient from SCC. Four other alumni from Nebraska community colleges also were honored.
Volk's visit to SCC's Milford Campus changed everything.
"He could see that manufacturing engineering was a great blend of mechanical principles and computers," said Stu Osterthun, SCC's administrative director of public information and marketing in his introduction. "He was able to use his hands. He was able to use his mind."
Volk is the vice president of MetalQuest Unlimited Inc., in Hebron, a position he's held since May 2002.
Responsibilities include those as a key customer account manager; supplier and logistics management and development; financial management; systems and software development and integration; SQL server and data manager; process, procedure and certification programs development and management; strategic planning; and training program management.
Volk also volunteers his time in a number of ways, including serving for the past seven years as an advisor for SCC's Precision Machining and Automation Technology program and for the past six years as an advisor for SCC's Manufacturing Engineering Technology program. He also is an advisor for Central Community College's Advanced Manufacturing Design program and is a member of the Nebraska Manufacturing Advisory Council.
In December 2008, Volk received the Outstanding Alumni Award from SCC's Milford Campus.
While a student at SCC, Volk was a member of the Student Senate, served as a Student Ambassador, was a tutor for the Manufacturing Engineering Technology program, and was an officer in the student chapter of the Society of Manufacturing Engineers.
"SCC provided me with an outstanding education and volunteer opportunities that have helped shape me both personally and professionally," Volk said. "I truly feel that I would not have been able to take advantage of the opportunities that have led to where I am now if I had not gone to SCC.  There is no better place for a student to receive their education for a career in manufacturing."
Volk also praised his fellow employees at MetalQuest.
"My success as a professional is entirely due to the people around me," he said. "I have been fortunate enough to be part of an outstanding team at MetalQuest Unlimited. At MetalQuest, I started as a Manufacturing Engineer in May 2002 and moved to the Vice President position in 2003. During my time at MetalQuest, we have become a recognized leader in the application of advanced manufacturing technologies."
Founded in 1996, MetalQuest Unlimited excels in manufacturing tight tolerance precision-machined component parts.  They serve a variety of industries including energy distribution, hydraulics, electronics, and transportation. The company started with one CNC machine in a small, rented space in Deshler, Nebraska. In 1999, increasing business allowed MetalQuest to build a new manufacturing plant along Highway 81 in Hebron, Nebraska.  As MetalQuest continued to flourish, two expansion projects in 2004 and 2012 have brought the plant to its current 51,000 square-foot facility, which now employs more than 70 people. Utilizing the latest technologies, MetalQuest has developed into a leading supplier of manufactured components. Their "Made-in-Nebraska" parts are a source of pride as their components enter the global market.