More than $16,000 from golf tourney presented to SCC for scholarships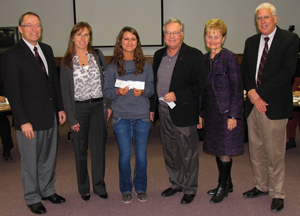 Stu Osthern, Administrative Director of Public Information and Marketing
November 25, 2013
Hang on for a minute...we're trying to find some more stories you might like.
Southeast Community College received checks for more than $16,000 Tuesday, proceeds from the 22nd annual Wells Fargo Nebraska Open golf tournament held in September.
Gary Thompson, second vice chairman of the Nebraska Public Power District Board of Directors, and Monica Balters, relationship manager at Wells Fargo Bank, presented the checks during the regular monthly meeting of SCC's Board of Governors.
"We are proud to be a sponsor and be able to contribute to scholarships for community colleges throughout the state," Balters said.
Three checks, each in the amount of $5,334, were presented to Bob Morgan, dean of virtual learning/Beatrice Campus director; Jeanette Volker, vice president for student services/Lincoln Campus director; and Lyle Neal, vice president for technology/Milford Campus director. Michaela Parks, a sophomore on SCC's Beatrice Campus, also took part in the presentation. The money will go into the scholarship fund on each campus.
Thompson thanked Wells Fargo for its ongoing sponsorship of the tournament, the proceeds of which have surpassed $1.25 million in scholarship dollars for students attending five of Nebraska's community colleges.
"You can't imagine what it means to us to have Wells Fargo as the main sponsor," Thompson said. "We raised another $80,000 this year."
SCC has received nearly $250,000 from the tournament since it began.
"We know what this means to your organization," Thompson said. "It's a real pleasure for us. We benefit tremendously from your students. They are a part of the economy of Nebraska."
Endorsed and administered by the Nebraska Section of the PGA and the Nebraska Golf Association, the tournament is coordinated by the NPPD and has been held at the Elk's Country Club in since 1992. More than 45 businesses sponsored this year's event.