Little Free Library open for business on SCC Lincoln Campus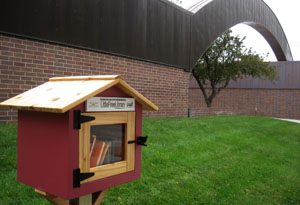 Stu Osthern, Administrative Director of Public Information and Marketing
November 1, 2013
Hang on for a minute...we're trying to find some more stories you might like.
Little Free Libraries are gaining in popularity all across Lincoln and the state. Now Southeast Community College has one.
Dr. Carolee Ritter, English Department chair at SCC, began working on the project several months ago. Through the efforts of other campus employees, Ritter said the library is now open for business.
"Our Little Free Library was constructed entirely from scrap cedar and construction materials, other than the hardware," Ritter said. "It is stocked with books for children, young adults and adults."
What is a Little Free Library? It's a "take-a-book, return-a-book" gathering place where people share their favorite literature and stories. In its most basic form, a Little Free Library is a box full of books where anyone may stop by and pick up a book, or two, and bring back another book to share.
SCC's Little Free Library is located behind the bus stop between the Child Development Center and the east entrance to the Lincoln Campus building.
Ritter said Little Free Libraries can be found all over the world "in an effort to support communities and promote literacy."
SCC's Physical Plant staff installed the Little Free Library, and the project received support from Jeanette Volker, vice president for student services/Lincoln Campus director.
Little Free Library is a nonprofit organization that supports community literacy and libraries. Community members (and sometimes businesses and corporations) construct and install a structure that looks something like a large birdhouse or mailbox and holds donated books. There are hundreds of Little Free Libraries around the world, Ritter said.
"My husband is a homebuilder, and we built our first Little Free Library out of scrap cedar decking left over from a house he built," she said. "We used treated wood, exterior hardware and glues, and a strong Plexiglas for the window to help ensure it will withstand the elements."
Ritter said SCC's Little Free Library will be registered with the Little Free Library organization, get its official plaque, and show up on the Little Free Library's worldwide Google map.
"I will be the official 'steward' of the library, responsible for maintaining it and keeping it stocked with books," she said.
Ritter said there are Little Free Libraries on 14th and Rose, 29th and Jackson and just north of 41st and South, to name three others in Lincoln.
"I was thinking, though, that instead of putting mine up in a neighborhood, how neat it would be and what a great message it would send if we put one up at SCC," Ritter said.
Ritter said she plans to build more and get friends to put them up in their neighborhoods and steward them.
"I'd love to see one on each of SCC's campuses as well," she said.
Persons wanting more information about Little Free Libraries can go to www.littlefreelibrary.org.