Lady Storm overcomes Hastings JV to avenge previous loss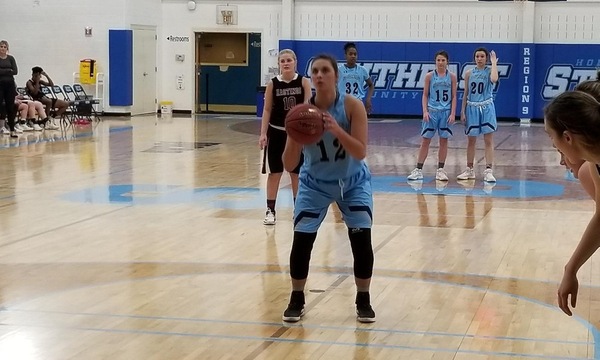 Matt Hagemeier, Sports Reporter
December 6, 2017
The Lady Storm avenged a previous 75-70 road loss to Hastings JV back on Nov. 14 with an 87-76 win Tuesday, Dec. 5, at the Truman Center.
The Storm were powered by a 30-point first quarter where the team was able to draw fouls early and land at the line, hitting 10-12 shots.
They had climbed back from an early 7-2 hole and outscored the Broncos 28-10.
Southeast cooled off in the second quarter as they managed just 11 points and three field goals.
The team lead by as many as 16 points in the second quarter before the Lady Broncos went on an 18-8 run to close the half.
Hastings' Casey Dorenkina gave SCC fits in the second as she poured in 19 points by halftime.
Hastings took control to start the second half with an 11-0 run to make it 46-41 before a Marica Hawkins bucket broke the run.
Head Coach Lynn Schlake said at that point the team started "moving better" and sharing the ball.
The Lady Storm found itself still trailing at 51-47 when Erika Goracke took it to the basket to make it 51-49. Later, SCC would take retake the lead with a Goracke three that made it 54-53.
A basket by Jorden McClure made it 55-54, but Goracke on the next trip back knocked down another three to take a 57-55 lead.
There were several more lead changes, before a put- back basket by Kaitlyn Harrison at the third quarter buzzer gave Southeast a 65-61 lead.
Southeast opened up the fouth quarter on a 10-0 run and held steady the rest of the way for the win.
Morgan Frauendorfer lead Southeast with 21 points, going a perfect 8-8 from the free throw lane. Goracke added 18, including 4-8 on three pointers. Dorenkina would finish with 25 points, but managed just six in the second half.
"We noticed she was not passing the ball, so we collapsed (the defense) on her," Schlake explained.
The win improves the Lady's Storm record to 4-7 overall, and the team will host Fort Scott and nationally ranked Highland Dec. 8-9 in the Holiday Classic.