Lady Storm capture NCCAC Championship with victory over Central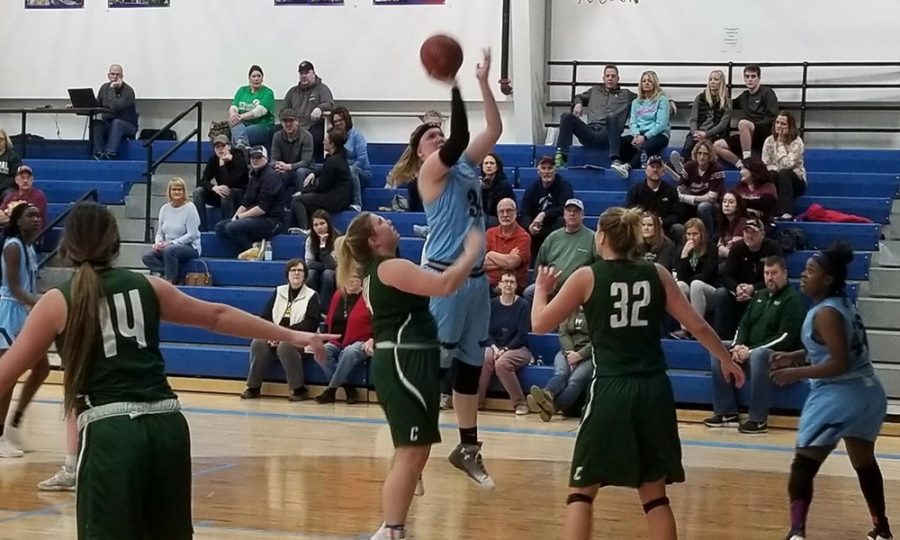 Matt Hagemeier, Sports Reporter
February 28, 2018
Southeast unleashed a barrage of early threes that buried Central en route to an easy 92-60 win and a regular season Region IX championship Sunday at the Truman Center.
Sophomore Sebit Gatlauk started the scoring with a triple and then got a steal and score to put SCC up 5-0.
The Lady Storm then extended the lead to 11-5, but Central fought its way back to trail just 11-10.
Kaitlyn Harrison hit a free throw and a field goal to extend the lead again to 14-10. And back-to-back threes by Erica Goracke and Madison Hajek highlighted an 11-2 run to give SCC a 22-12 lead.
Central fought back to make it 22-15, but that was as close as the team would get as Gatluak hit a contested three from the left wing and Hajek followed with another from the top of the circle to go up 28-18 to end the first quarter.
It was smooth sailing after that as SCC scored 28 points again in the second.
And Central was never a threat as SCC improved to 11-18 on the year, including a season sweep of conference foes Central and North Platte.
Gatlauk led SCC with 23 points and also was a force defensively with eight steals.
Hajek was perfect from three, hitting 6/6 and adding 22 points. 
As a team, The Lady Storm shot 57.1 percent on 12/21 shooting.
Quenshae Love led Central with 17 points.