Iowa Western Reivers Defeat the Storm 80-71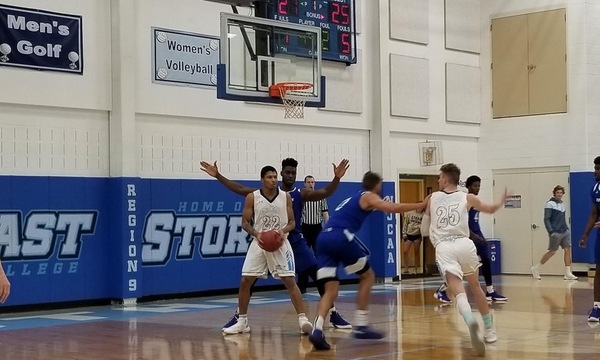 A second half surge by the SCC reserves was not enough to overcome a deep and talented Iowa Western team, as Southeast fell 80-71 Tuesday, Dec. 5, at the Truman Center.
The Storm scored the first 8 points of the contest and led 21-17 midway through the first half before the Reivers took a time-out. They got it together after that, going on a 22-6 run and leading at the halftime break 39-27.
The Reivers assumed control in the second half, leading by as many as 22 points several times.
The Storm trailed 76-56 with 3:22 to go when the surge started.
Liem Liemscored a rebounded bucket  to jump start a 15-0 run. It was punctuated with a Liem three pointer and a fast break bucket in which the freshman drew a foul to make the score 76-71.
However, Liem missed the opportunity for a three point play, and Iowa Western was able to fend off SCC in the final moments.
Head coach Joel Wooton said he was pleased with the effort of his reserves and said Liem played well in the second half.
"Hopefully, the lightbulb stays lit," Wooton said.
The coach said his team has the ability to play three lines against teams, and hopes they will be able to wear some future teams down as a result. But he added that the reserves need to practice harder to get better.
"They still don't understand how hard they have to practice to play," Wooton said.
Liem led SCC with 12 points and 12 rebounds for a double-double while Ben Moss also had 12 points, with nine of those coming on three pointers. Caleb Huffman led the Reivers with 23 points.
The Storm's record falls to 3-9 on the year, but Wooton remains upbeat.
"We still have a chance to be very successful," Wooton explained. "We have played a super tough schedule. Everyone we have played that we have lost to is rated, or is a DI school. We just need confidence."