Improving Lady Storm comes close to win over Des Moines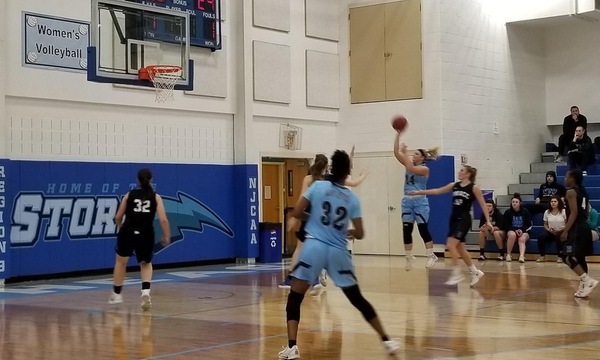 Matt Hagemeier, Sports Reporter
December 5, 2017
Sometimes progress doesn't show in the win column.
And the 2017-18 edition of the Lady Storm is showing improvement and giving Head Coach Lynn Schlake hope, even as the ladies suffered an 88-83 setback to Des Moines Area Community College Saturday, Dec. 2, at the Truman Center.
In a game that featured 10 lead changes, SCC found them playing step for step with the 15th-ranked Bears.  However, Schlake says it was little things that kept the team from getting over the hump.
"They miss one less 3 [point shot], and we make one more, we win," Schlake said.
The coach also pointed out the difference at the free throw line as a factor in the loss.
DEMACC went to the line 29 times, hitting 20. Southeast got to the charity stripe 13 times, hitting 10 of the shots.
SCC had a good day shooting.
They were 50 percent in the first half and ended up at 47 percent. That number is just off the season high Southeast had in a win at Little Priest, where they hit 48 percent.
That is a positive trend for a team that was struggling from the field, hitting just 32 percent for the season.
The Lady Storm had five players scoring double figures, led by DeAsia Walker's 15 points and eight rebounds.
Erika Goracke added 14, including 2-4 from the beyond the arc while Marcia Hawkins also provided a spark in the front court, chipping in 13 points in 6-9 shooting.
"We are getting more aggressive on offense," Schlake explained.
The Bears were led by Joniqua Clark's 23 points. Molly Mitchell recorded a double/double with 16 points and 13 rebounds.
The loss dropped Southeast to 3-7 on the season. But the coach still feels better days are ahead for the squad this season.
"We feel we are making progress," Schlake said. "If we continue to play hard and improve … good results will come our way."