Highland Lady Scotties defeat Lady Storm 107-71 in Holiday Classic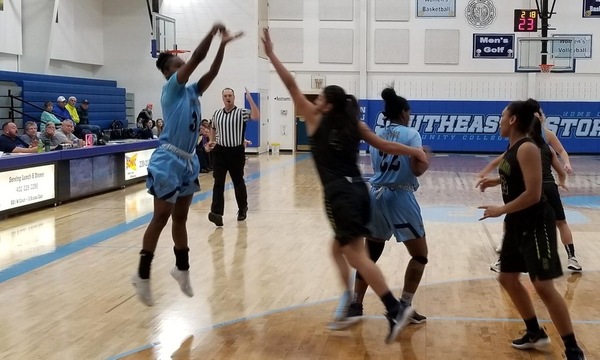 A hot-shooting performance from SCC was not nearly enough is the team fell 107-71 to the swarming Highland Lady Scotties on the last day of the Holiday Classic.
Southeast shot a season high 55 percent, and that was one day after they totaled 21 percent in a loss to Fort Scott. But Highland's press defense forced 39 turnovers and turned those into an incredible 58 points.
Highland's explosive, fast-paced offense was too much for SCC's defense to handle.
Mariane DeCaravalho poured in 29 points, grabbed 12 rebounds, dished out seven assists, and got six steals in one of the best overall efforts at the Truman Center this season.
Fellow Brazil native Niccolly Ramalho played the offense to a tune of 15 assists.
HCC jumped out to a 31-14 lead in the first quarter, then continued the dominance into halftime with a 65-31 lead.
The Lady Storm played better coming out of the halftime break, as the team outscored Highland 27-23 in one of its most productive quarters of the season.
DeAsia Walker led SCC with 23 points on a perfect 6/6 shooting from the field, and Erika Goracke and Madison Hajek each added 12 points to aid the offense.
Southeast was also to knock down nine threes as a team. Goracke was 4/5 and Walker went 3/3.
The loss dropped the team's record to 4-9 on the season.
The Lady Storm is off for winter break until Saturday, Jan. 6, when the team travels to North Platte.