Hajek plays role in Hesston win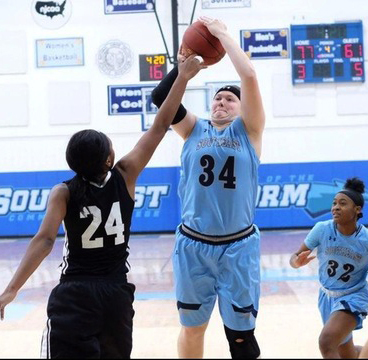 Matt Hagemeier, Sports Reporter
November 28, 2017
Madison Hajek's drive to the basket for a score on SCC's second possession of the game was the start of an all-star performance for the Diller-Odell graduate in a 90-73 win over Hesston College Saturday, Nov.25, at the Truman Center.
Hajek would end up with 23 points and 17 rebounds on 9-16 shooting from the field. Her team as a whole has struggled throughout the season, going 2-6. But Hajek's performance had SCC fans and Head Coach Lynn Schlake encouraged about the team's progress going forward
"Madison can play that way every game," Schlake said.
Hajek's play helped Southeast avenge an earlier 83-58 loss to the Larks on Saturday, Nov. 11. In that game, Hajek went scoreless and only played 11 minutes.
In the rematch, Hajek took control of the game. She would hit a three pointer to make it 5-0 on Southeast's third possession and helping her team jump out to a 13-2 lead.
However, Hesston woke up and went on a 24-6 surge to power ahead 24-19 early in the second quarter. SCC responded with an 8-0 run to take a 27-24 lead.
The Larks delivered another counter punch going on a 12-6 run to have their biggest lead of the half at 36-31. Hajek hit home a three to cap a 5-0 run to put SCC ahead again 37-36. A rebound basket by DeAsia Walker with three seconds left sent Southeast into halftime leading 39-37.
Southeast went on an 18-6 run to start out the second half and kept pace for the remainder of the game, sending Hesston on the road back home with a 90-73 loss.
"It was a very good win," Schlake said. "We played hard."
The coach said a big factor in the win was his guard's ability to hurt Hesston with the dribble-drive and win one-on-one matchups with their defenders.
But he says the work to improve continues.
"We can get better…especially from the bench," Schlake explained.
Southeast had five starters scoring double figures, but only got five points from the reserves.
Connor Atkinson led Hesston with 17 points, and Essence Tolson recorded a double /double with 13 points and 13 boards for Hesston.
The Lady Storm play at Little Priest, on Wednesday, Nov. 29, before returning home to face Des Moines Area Community College Saturday, Dec. 2.