Business incubator gives businesses head starts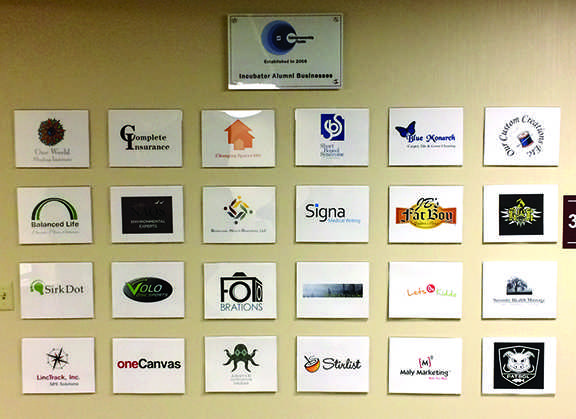 Julian Hayden, Student Reporter
February 7, 2017
LINCOLN – For 10 years, SCC's Entrepreneurship Center has had an opportunity that allows for people to start, grow and improve their businesses. The Entrepreneurship Center's Business Incubation program is designed to provide a space for beginning entrepreneurs to build their business from the ground up.
"Business Incubation, just like how you would incubate an egg, is a way to carefully bring life to a new business," said Director Steven Bors.
The people who run the incubator try to take the risk out of starting a business. One way they do that is by providing workplaces and coaching for the new entrepreneurs.
Offices that can be rented are provided to entrepreneurs for one hundred dollars a month. These offices allow new business owners to avoid risks like signing leases and dealing with landlords.
Coaching is provided to help new business owners if they ever have questions about anything as they build their business. The business coaches have expertise in topics like  starting business, banking, and consulting.
When someone joins the program the first thing they do is meet with coaches, who help pinpoint their goals and direction for the business. The person then goes through the Business Design program, which is a coaching series that helps them focus on the idea for their business.
Bors believes what makes the incubator successful is "that we try to remove roadblocks for people.  We try to remove the excuses they might have for not starting a business [by taking] the risk out of it or at least some of the risk out of it."
"We provide coaching and support and a lot of advice along the way," he said. "We've got a team of people here that really very much care about other people, and we try to help people through the difficulties of starting a business."
There's lots of competition from other programs, like Fuse Coworking and N/Motion, that have popped up over the last few years. Despite the new programs available, the incubator has been able to hold its own during the ten years it's been in Lincoln.
The incubator is usually packed with startups, including people who are starting businesses, but aren't renting offices. Nine businesses are currently in the incubator, and the amount varies from month to month.
The incubator is actively part of startup community, with incubator employees participating in Lincoln Startup Week, startup coffees and attending and judging at UNL startup events.
Famous graduates include NAQS Environmental Experts, Changing Spaces Senior Relocation Services and PigPatrol Fishing Apparel Brand. Alumni come back to do workshops and presentations on skills they've learned and tools they've found that have helped them be successful.
Future plans for the incubator include providing services, seminars and workshops outside of Lincoln to SCC learning centers in Plattsmouth, Falls City and Wahoo. Doing this will allow incubator coaches to help business owners in southeast Nebraska.
Bors wants to invite anyone who's ever thought about starting a business and who want more information to come in to see them. All initial coaching meetings are free, so people don't have to spend money to ask questions.