Baseball dreams season comes to a close at World Series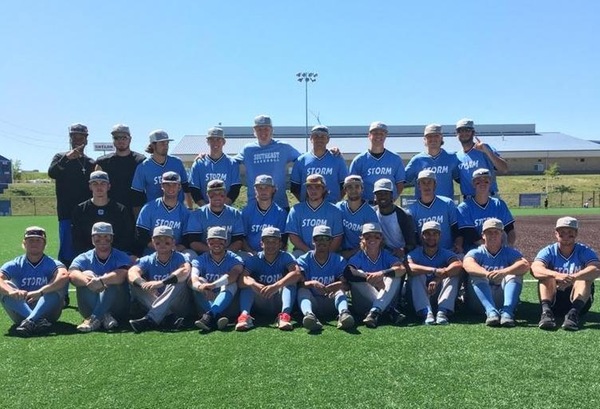 The SCC baseball team's dream season has come to an end after Phoenix College eliminated the Storm from the NJCAA College World Series held Saturday, May 26-27, in Enid, Okla.
Southeast was sent to the elimination game after falling to Lansing 8-4 in the opening game of the series.
The Storm fell behind 8-0 through the seventh inning when the batting finally game to life. The bases were loaded with two outs when Ryan Cornell blasted a three-run double to make it 8-3.
Cornell delivered another run home in the ninth to pull within 8-4, but it would be too little, too late for the Storm as the team dropped the opener 8-4 and setting up the elimination game with Phoenix.
For the second game, the Storm struck first when Ben Palensky drove in Grant Van Scoy on a sharp grounder that could not be fielded by Phoenix's shortstop. Wyatt Meyer hit a sacrafice fly to score Ryan Cornell, and SCC had an early 2-0 lead.
Phoenix then took a 6-3 lead in the third inning before the Storm surged for seven runs to retake the lead 10-6.
However, a pitching change brought in Bryce Johnson, who cooled the SCC batters for four scoreless innings.
Meanwhile, Phoenix's offense remained in high gear, outscoring Southeast 7-1 on their way to a 13-11 win.
Phoenix pounded out four home runs in the game, including three off Kaleb Sanderson and one off of Joesph Vargas.
BJ Sparks took the loss for SCC, who ended the team's season at 40-20.
Assistant coach Tyson Parks said it was a tough and dedicated sophomore class that was instrumental in the team's postseason success.
"It's tough to lose such great kids," Parks wrote on the team's Facebook page. "I think they understand what it means to battle, to prepare and give it all."
"They are the first group of kids to carry the torch forward and lead us to the (Division II) World Series," he added.  "We are so proud of these guys."
The coach said it will take a lot of hard work to get back to the College World Series.
"We have a lot of capable players coming back, and it's sure (going to) be a lot of work to make it back here," Parks predicted. "But like anything else, we'll work until we can have the chance to get back here to this point and go forward."