Champion golfer signs letter of intent with SCC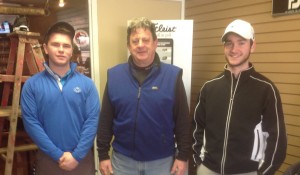 S. MacLeod, flagstick.com staff writer
February 5, 2016
Hang on for a minute...we're trying to find some more stories you might like.
Braden Wheeler, the four-time reigning junior club champion at the Deep River Golf Club, has found a home where he can pursue golf at the collegiate level.
Wheeler, 17, has signed his Letter of Intent to attend Southeast Community College in Beatrice, Nebraska.
"We are extremely excited to add Braden to our 2016/17 golf team," Southeast Storm golf coach Bill Campbell told Flagstick. "Braden has the big three that we look for in a golfer: physical talent, work ethic, and personal accountability. Braden had a great visit to our campus, and fit in well with our freshman class, it was an easy decision to offer him one of my two remaining scholarships. We look to extending our streak of 12 straight trips to the national tournament this year, and with Braden's help, far into the future."
For the rest of the story: flagstick.com