Center for Excellence celebrates five years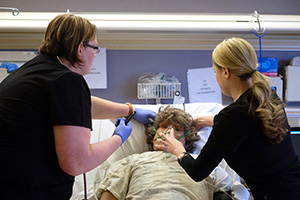 Today, the Center for Excellence in Clinical Simulation, which utilizes human-like mannequins and advanced audio and visual technology to provide unmatched, real-life training to students and medical professionals in the state, commemorates its fifth anniversary.
The facility, located on the second floor of Bryan Medical Center's West Campus, has trained nearly 20,000 students, nurses and other health care professionals through hands-on instruction. The program is a joint venture between Bryan College of Health Sciences, Bryan Medical Center and Southeast Community College.
"The combined partnership between these three organizations to improve patient care at the local, community and state levels makes this program one of the most unique in the country," said Renee Schnieder and Jessica Warren, co-coordinators of the Simulation Center from SCC and Bryan College of Health Sciences respectively.
The Center for Excellence in Clinical Simulation is located in an 11-bed inpatient care unit at Bryan West. The area provides a realistic hospital setting and features six adult patient simulators, two pediatric patient simulators and an OB and infant patient simulator to prepare for a diverse set of circumstances. Heart attacks, kidney failures, pregnancies, deliveries, and even death are a few examples of cases that have been simulated in the facility.
Individuals interact with ultramodern mannequins equipped with realistic features such as pulses, heart and lung sounds, blinking eyes, and chests that rise and fall. State-of-the-art audio and visual capabilities allow staff to play the role of a patient by speaking, asking and answering questions and initiating circumstances to replicate real-world happenings such as crying, drooling, bleeding, and vomiting. Skills are honed as students and health care workers learn to manage the care of a simulated patient that reacts to the decisions they make.
The facility has seen a consistent and steady increase in participants since its creation, nearly doubling the number of students and health care workers that benefit from simulation experience. The program educates a wide variety of health care specialists and tailors its training to multiple groups:
Bryan College of Health Sciences and SCC students complete simulations that are specific to courses and lesson plans within their field of study;
Bryan Medical Center employees, both clinical and non-clinical, complete simulations that are focused on their specific area of need;
Outside organizations, such as EMS, complete simulations that focus on their specific area of need.
The Center for Excellence in Clinical Simulation has three dedicated debriefing rooms where individuals can gather with staff to review video of their sessions and evaluate how they reacted, what decisions worked well and how they can translate the simulation to real-world events.