Storm athletes noted for academics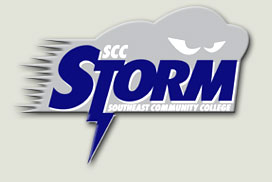 Hang on for a minute...we're trying to find some more stories you might like.
Southeast Community College student-athletes prove to be a success not only on the field but also in the classroom, with six of the eight SCC athletic teams scored above a 3.0 cumulative team grade-point average during the 2016-2017 year.
The National Junior College Athletic Association released its Academic All-American individual and team awards, and the Storm men's cross country team (3.34 GPA) tied for second in the nation, and the men's basketball team (3.46 GPA) finished third in the NJCAA academic team rankings.
The other Storm teams finishing with at least a 3.0 cumulative GPA were men's baseball (3.07) and golf (3.06), and women's volleyball (3.05) and softball (3.29).
Leading the way individually were softball players Courtney Stephens of Lincoln (Southeast High School), Brooke Brestel of Lincoln (Southwest High School); men's basketball player Daniel Quesenberry of Salem, Utah (Salem Hills High School); volleyball player Diedre Waite of Dalton (Leyton High School); and women's basketball player Erika Goracke of Sterling (Sterling High School), each of whom earned NJCAA All-Academic First-team honors with perfect 4.0 GPAs.
"I'm a student first," Brestel said. "I worked on my studies, then I worried about softball. Our coach was really understanding about putting school first."
"An education is paramount," said Bob Ginsburg, head coach of the Storm softball team. "These girls succeeding in the classroom is bigger than any win during the season."
Ginsburg said if any of his athletes are struggling with school, they immediately get them help before it becomes a bigger problem.
"We support everybody," he said. "I'm bringing them here because they're excellent athletes, but also because they work hard in the classroom."
SCC Athletic Director Dan Johnson says an athlete with good academic standing could make the difference when transferring to a four-year school.
"Seeking playing positions at four-year institutions is very competitive," Johnson said. "Coaches not only want talented athletes, but they want good students as well."
In all, 30 SCC student-athletes received national academic honors.
Thirteen Storm athletes earned NJCAA second-team honors (with GPAs 3.80 to 3.99), while 12 earned third-team honors (3.60-3.79).
For a complete list of SCC student-athletes, log on to www.njcaa.org/academic-awards and click on the individual sports.